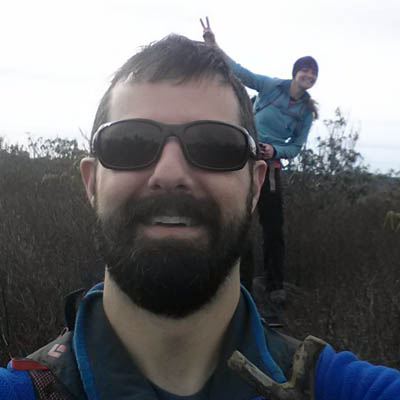 Garrett Gossett -
Chapter Chair
Garrett grew up in southwest Georgia, an area renowned for gnats and gators rather than rock climbing. But through scouting and summer trips to North Carolina, he fell in love with the mountains and gained an appreciation for nature. Countless backpacking trips over the years eventually led to an Appalachian Trail thru-hike, which Garrett completed after graduating. In 2006, he moved to Charlotte to work as an electrical engineer, where he soon discovered a vibrant climbing community with strong traditional ethics. Garrett has been a volunteer for the AAC since 2015 when he helped organize a rappelling clinic. He hopes that the Charlotte Chapter will be a place where both new and seasoned climbers can grow stronger. When he's not climbing, Garrett can be found backpacking with his wife in the South's tallest peaks.
Mitchell Rutledge - Volunteer
I was first introduced to rock climbing by a friend in 2012, in exchange for motorcycle lessons. My engineering mind immediately enjoyed the problem solving aspects of climbing, as well as the mechanics of the gear. A year later I was taking climbing courses through the local gym and getting outside sport climbing every chance I got.

My start to true NC climbing came in 2015 when a finger injury left me looking for other ways to enjoy the sport. With only 4 heavily discounted cams, (a #1, 0.5,
and two 00's) and a set of Black Diamond nuts, I was out climbing North Carolina's classic beginner multi-pitch lines. I immediately found a new love for adventure climbing and realized what true "runout" meant.

In 2016, I began looking for a mentor and found myself working as an apprentice guide at a local adventure company. Two PCGI courses and a season of work later, I learned that I really enjoy teaching climbing, particularly the physics of climbing, climbing gear, and managing risk.

I now find myself engulfed in the sport and all of its disciplines. I continue to get excited learning about the latest gear, giving back through trail work, understanding our environmental impacts, supporting environmental advocacy, and inspiring new climbers.