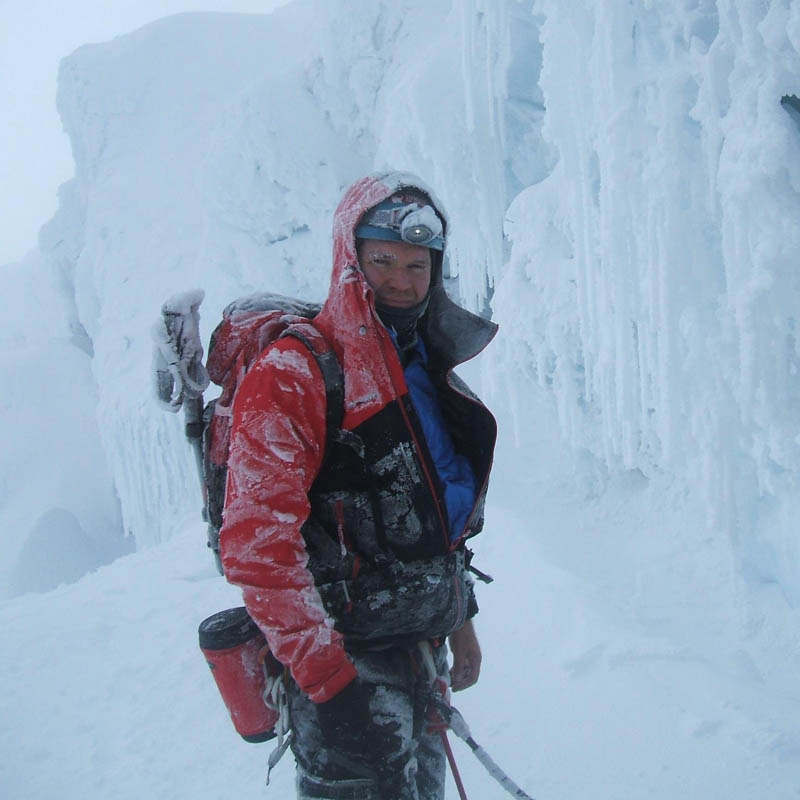 Dave Giacomin

Section Chair
Dave Giacomin, a native of Washington, DC, Dave Giacomin has been a member of American Alpine Club for the past six years. He climbs ice, rock and alpine routes whenever possible. His true passion is in high altitude mountaineering and ice climbing. Some of his summits include Mt. Rainier, Illiniza Sur, Illiniza Norte, Cotopaxi, Mt. Whitney, The Grand Teton and 15+ 14,000 ft peaks in Colorado. "I love helping the DC section grow into a powerful resource for local climbers to learn to climb safer and harder routes." He lives with his wife and dog near downtown Silver Spring, MD.
Eliddia Mader
Communication Chair
Eliddia Mader grew up in North Carolina where she spent the weekends and summers of her childhood hiking, camping, and swimming in the streams of the Blue Ridge in her family's hometown of Sparta. Eliddia's introduction to climbing was not your typical progression—she became acquainted with the rock through deep water soloing (although unaware it was even a sport) in an inactive quarry as a teenager.
A decade later, after moving to DC, she joined the Potomac Mountain Club and American Alpine Club, went straight to following trad, and began leading three months later at Seneca Rocks, WV. Since then, Eliddia has moved on to include ice climbing and skiing during the colder months, but her heart will always lie in crack climbing, usually of the hand to offwidth variety. With a passion for inclusiveness in the climbing arena and a focus on women's events, the forefront of Eliddia's mission has been empowering others and making climbing accessible to all, breaking down barriers that stand in the way through organizing community outreach and educational opportunities.
Piotr Andrzejczak
Section Social Chair
Piotr Andrzejczak picked up climbing in the Washington DC area, discovering the Potomac Mountaineering Club and the American Alpine Club – Washington DC Section. As the seasons change so does the climbing on the east coast. Spring, summer and fall were spent at the local DC crags, Seneca Rocks and New River Gorge. Winters were spent ice climbing in the northeast.
Piotr received the Live Your Dream Grant in 2014 taking a team of 4 to the Alaska Range climbing technical peaks around Denali. Since then he has returned to the Alaska Range multiple times. While on a work assignment to San Diego, CA. Piotr and Jonathan established the San Diego Chapter, unifying Southern California climbing community while sending local SoCal crags, high sierra granite and learning to surf. To Piotr it's about "mentorship, education, conservation and community." We are excited Piotr has returned to the DC area and part of the DC Section Leadership as the Social Chair.
Michael Astran
Section Vice Social Chair
Michael Astran grew up in the Johnson City, Tennessee area and fell in love with the outdoors while backpacking and camping in the Smoky Mountains as a child. After serving 24 years in the Military he found a new passion in Climbing. He created the closed group The DC Area Climbing Community and in just over a year and half it grew to just short of 1000 active climbing members and is still growing.
He has set up local and traveling climbing group events nearly every weekend since he started climbing. These events include climbing in Austria, Germany, Mexico, Red Rocks, The Gunks, Red River Gorge, New River Gorge, and every CRAG he could find within driving distance. He has summited Mount Rainer but prefers Rock climbing. A common quote would be "To me Rock Climbing is not just about getting to the top it's about who can I take with me." It is this attitude and instant feeling of being family that make others strive to come to his events and his selection as the D.C. Section Vice Social Chair.
Tom Cecil
Section Education Chair
Tom Cecil from the Seneca Rocks Chapter will be assuming the role of DC Education Director. Read John Long's assessment of his skills below.
Tom Cecil's influence on modern American climbing goes beyond his title of "Mr. Seneca" (Tom has climbed at Seneca Rocks, WVA, for 44 years, and has guided there since 1987). Tom is currently an active rep for the Access Fund, American Alpine Club - Seneca Rocks Chapter co-chair, as well as serving on the PCGI board of directors. These appointments were earned though a lifetime of climbing achievements, including many laps up El Capitan in Yosemite Valley, and his pioneering efforts (over 100 FAs) in Thailand, to mention a few. And when I was tasked with trying to standardize the methods of modern climbing safety in various how-to books, Tom's experience and creativity was crucial in supplying not only now-standard anchoring strategies but also in creating the terminology which comprise the modern vocabulary. Simply put, from the gyms to the big walls, Tom Cecil was instrumental in fashioning the safety model followed by virtually all modern climbers, and for going on half a century he's been a leading ambassador for the "sport of kings" (and queens!). -John Long
Elliott Becker
Policy and Advocacy Volunteer Chair
Elliott Becker is also a native of D.C., though he started climbing on the limestone walls of the Greenbelt in Austin in 2012. Since then, he has pursued climbing in all forms and disciplines and has climbed all over the U.S. and the world. A peripatetic climber, his favorite crag is the next one he is exploring. A member of the AAC for a number of years, he believes absolutely in the critical importance of climbing being an open and democratic endeavor. Regardless, his guiding philosophy remains, "I just really like climbing."