Erin Lynch -
Chapter Chair
Erin arrived in Houston by way of Southeast Michigan, trading one flatland for another. After growing up in Philadelphia she discovered climbing during her college years. As a student of geology, Erin's first exposure to rock scrambling was primarily an academic pursuit, but inevitably, it grew into something more. Luckily, she still loves to travel, and she makes time to get out of the city and explore climbing areas all over the world (though the New River Gorge will always hold a special place in her heart). While battling the heat in Houston, Erin can usually be found trading belays at the local gyms, but she also makes time to get outside and bike the local trails or stay inside and bake tasty treats for friends.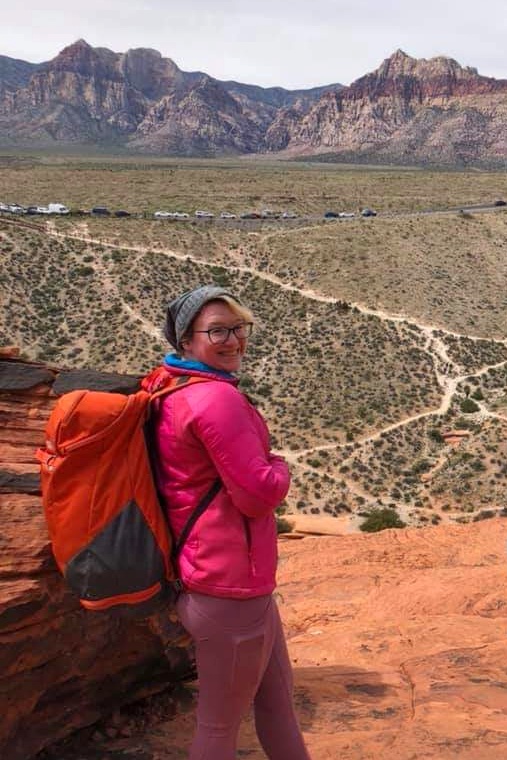 Halina Sundy – Communications Chair
Halina found her way to Houston through work in the Environmental Remediation field. She first discovered climbing by tagging along with her older brother's Boy Scout troop and was so enamored that she brought her whole Girl Scout troop shortly thereafter. Post college she has gotten involved in the community, including teaching and coaching young whippersnappers at her local gym. Don't let the pale skin fool you, she loves to spend time out on real rock, recharging her soul over weeks or weekends out in the mountains Her favorite things are new places, ice cream sprinkles and slab climbs. Halina always finds a way to make friends wherever she goes and loves to share her passion about climbing. With the AAC she hopes to build an open community to share knowledge, experiences and adventures.
Kameron Mccall – Event Chair
From Texas City, TX (flatland pride!) I've been climbing for the last three years and have been a sponge for all the disciplines this sport has to offer. Starting with a background in general mountaineering, I've moved on to love bouldering, ice climbing and everything in between. (Big Goal is to climb the Cassin Ridge on Denali before 35). I also love bringing at risk youth and students to experience nature and the wild, having lead volunteer backpacking trips through Yosemite, and Glacier national park with Houston high school students. For the last few years I've been a teacher partner with the woods project, a local non-profit that brings Houston youth outside and to the mountains. To summarize, being outside is a must.